FIBARO wireless home automation on Z-Wave protocol
Fibaro, the best wireless home automation solution. Automate your existing house without renovating.
Read more
Fibaro, the best wireless home automation solution.
If you think of domotics, and certainly in the case of existing homes, where it is not easy to install new electrical cables, FIBARO is a very good choice. FIBARO is the market leader in Z-Wave home automation solutions.
The Fibaro brand is in full expansion, where many products are available and there is continuous development and new products or accessories are regularly on the market.
Moreover, it is easy to integrate and install.
FIBARO is top design, the Apple of home automation, convenient and affordable.
FIBARO is trendsetter in the field of wireless smart home solutions. The brain of the installation is the gateway Home Center 2 or Home Center Lite. The other components are subdivided into Sensors, actuators or remote controls.
HomeKit enthusiast and use the versatility and quality of FIBARO? No problem, of course, because FIBARO also supplies products suitable for HomeKit!
(this will be added to the assortment in the near future)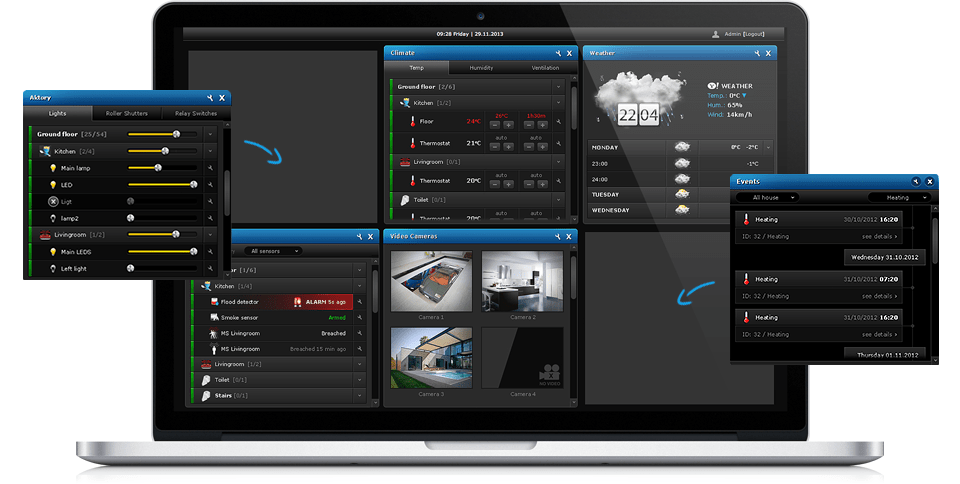 The advantages of FIBARO
Why My-Smarthome.be offers FIBARO, the answer is simple. I was looking for a domotics system that is easy to install without the need to adjust electrical lines. If you have a home with "visible mousswitch" you can not just put a new cable to your fuse box.
The other FIBARO benefits at a glance:
Works with the widely used Z-Wave protocol.
Is of high quality, a European product (not made in China).
Has many products available.
Is easy to integrate into existing electrical installations and switches. No half
renovation needed to make your house smart!
Means Plug and Play.
Is user-friendly: You do not have to be a trained electrician to be able to install or operate it.
Has automatic updates.
Top design. FIBARO products are beautifully designed.
The possibilities

FIBARO stands for comfortable and safe living and at the same time saving money.
The possibilities are endless: from a night light that automatically comes on when you have to go out at night or your lighting that goes on when someone rings, to making your house lighted and heated when you come home late in the winter months.
With FIBARO it is not the sky is the limit, but your imagination!
Note: this can be somewhat addictive ...
Products and their possibilities:


FIBARO Home Center 2:
Super fast Z-wave base station with beautiful design.
You should not hide this smart home controller in your fuse box or home automation cabinet! It is really the nicest FIBARO domotics base station there is. And then he also has the best specifications. Why would you wait? Add FIBARO's home automation intelligence to your home!

The advantages:
Super fast energy efficient processor (1.6Ghz);
Stylish aluminum housing;
Extensive scene programming by means of graphical blocks or d.m. LUA programming;
Connecting a lot of modules, with a maximum of 230! Your new addiction can therefore go forward;
FIBARO Home Center Lite:

The little brother of the Home Center 2. The FIBARO Home Center Lite has the same beautiful interface, an energy-efficient 720Mhz A8 processor and an attractive price. The Fibaro app is included free of charge as well as the updates that are issued.
The main differences with his big brother are:
Less powerful processor (720Mhz vs 1.6Ghz);
Plastic instead of aluminum housing;
Smaller size (only 93x93x33 mm)
Scenes can only be made using graphical blocks. Here fibaro block scene for an example;
No Lili speech recognition;


FIBARO Z-wave actor modules:
FIBARO has the smallest home automation Z-Wave built-in modules. And you can do much more with that than simply switch lamps: with the FIBARO modules you can easily create a smart garage door or automatic shower ventilation. Let go of your imagination! Contact us for the possibilities. If you are going for a complete installation, let us know and we will make a customized offer.
There is a choice between single and double switching modules, dimmer and roller shutter control module.
FIBARO Z-Wave door and window sonsors:
FIBARO offers design window and door sensors with a built-in temperature sensor. Never again doubt whether you have left a window or door open when you are not at home.
The FIBARO Z-Wave window and door sensors are not only convenient, but also beautiful: they are available in as many as seven colors!
FIBARO Z-Wave binary sensor:
A big masterpiece in small form: the FIBARO Z-Wave binary sensor. The connection between the old world and the Z-Wave world! Turn your old devices into Z-Wave equipment with the FIBARO Z-Wave binary sensor.
The ultra-small Z-Wave universal sensor is designed to provide non-Z-wave devices with Z-Wave functionality. Create your own Z-Wave device by connecting the output of an analog push button to the FIBARO binary sensor! Upgrade your dingdong doorbell to a doorbell that activates your lights ...
FIBARO Z-Wave wall plug:
Another Z-Wave masterpiece from FIBARO: the FIBARO Z-Wave wall plug (and yes, also available for our Dutch and German customers). The FIBARO Z-Wave wall plug is the smallest and most beautiful Z-wave adapter that is available, with endless possibilities such as a Z-Wave night light for when you have to go out at night, or as a Z-Wave network tester. Or switch your house off when you hang your smartphone on the charger by your bed. In short, again brilliant from the men of FIBARO!
FIBARO Z-Wave RGBW-controller:
Atmosphere in your home or office? The FIBARO Z-Wave RGBW controller is the solution! With the RGBW controller from FIBARO you can connect almost any RGB (W) LED strip to your Z-Wave system. Whether it is the Home Center 2 or Home Center Lite from FIBARO itself or a base station from another manufacturer. The FIBARO Z-Wave RGBW controller works perfectly with any system.
FIBARO Z-Wave flood sensor:
FIBARO is more than just comfort and fun living.
It is also the smart home system to increase safety in and around your home.
With, for example, the FIBARO Z-Wave flood sensor with temperature sensor and built-in siren.
A good home automation system contains several security options.
In addition to an alarm function to protect against burglars, FIBARO also offers protection against flooding with this attractively designed home automation water sensor.
As soon as the gilt legs of the FIBARO flood sensor become damp, they display a Z-Wave signal and an acoustic signal.
That can save you a lot of work and damage!
HomeKit user?
The FIBARO flood sensor is also available as a HomeKit version.
Available soon.
FIBARO Z-Wave smoke sensor:
The FIBARO smoke sensor is a beautifully designed smoke detector. No ugly big white thing on your ceiling: the FIBARO smoke detector is smaller than a box of Nivea hand cream!
As with the FIBARO water sensor, this home automation smoke alarm also provides an acoustic alarm in case of smoke and / or fire, in addition to a Z-Wave signal. Go to sleep with peace of mind while the Z-Wave smoke detector watches over your home or office building.
Works on batteries.
FIBARO Z-Wave motion sensor:
The beautifully designed FIBARO Z-Wave motion sensor is a motion sensor with a diameter of less than 44 mm! The name motion sensor does not cover only after long after the load. The FIBARO Z-Wave multi-sensor also measures temperature, light value and shock movements in addition to movement. Nothing will escape the attention of your smart home, even your late-arriving teenager will not;).
With the FIBARO Z-wave motion detector, nothing escapes the attention of your home thanks to the many adjustment possibilities.
The FIBARO motion detector is also available as a HomeKit version.
FIBARO Z-Wave CO sensor:
FIBARO ensures safety on many fronts with the CO sensor.
Also in the field of carbon monoxide values.
The FIBARO Z-Wave carbon monoxide sensor is a Z-Wave Plus product.
This super small sensor measures the temperature next to the deadly and odorless carbon monoxide values.
FIBARO Heat controller:
Daring design with a rechargeable battery. This is the thermostat valve from FIBARO. Expand your domotics domain with the heating options of FIBARO's Heat controller.
FIBARO intercom:
It has long been speculated, and now he is available: the FIBARO intercom! One thinks he is too expensive and the other person wants him. As a FIBARO lover, it is of course a no-brainer. My-smarthome.be just love him. He works both stand-alone and with the Home Center. He is packed with options including a heating element.
Knowing more? contact us!
Curious about what FIBARO can mean for your living comfort?
Call us to discuss all your wishes and possibilities.