2- wire video door entry system
With a videophone, you can see who is ringing by using a monitor that is included with some types on your smartphone. And you open your door remotely. But in addition to the safety aspect, a videophone has been focusing more and more on comfort in recent
Read more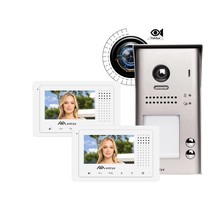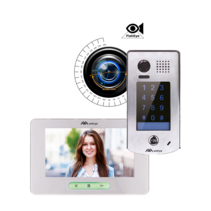 Voor 16:00 besteld, morgen in huis

Professioneel advies

Verzending via Bpost, thuis levering of postpunt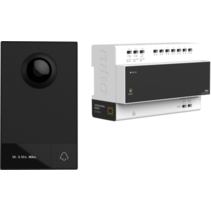 Videophone in more detail;
A videophone does not only process sound (as with an intercom) but also has a camera that can transmit live images. Most telephone handsets have one or two additional relay outputs to, for example, operate the light at the front door or switch the alarm on and off. But in general there are five common features that your videophone can have.
Memory function: for some models, for example, the camera takes pictures when someone rings the door while you are away from home. Or he makes a movie. The images are then stored in the device's memory. (usually on an SD card)
Answering machine: the outpost sometimes also fulfills the role of answering machine. Is no one at home? Then your visitor can leave a short (video) message.
Access control: someone calls outside. You can see who is at the door on the display and press the button inside. The door opens. But much more is possible in the area of ​​access control. For example, certain systems are equipped with a badge reader. Or with a code keyboard. Even access control with finger scan. So you no longer need a key.
Operation via smartphone: connect your videophone to your home network and control your system with an app on your smartphone or tablet. This way you can even see who is ringing at your door, even if you are not at home. For example, are you in the store and has a family member forgot his key? Then you can just let that person in from another location.
Communication indoors: with the interface function communicate with your housemates via two or more internal units in the house, for example between the bathroom and the kitchen.
What does a Videophone kit consist of?
A videophone kit consists of three main components: an indoor and an outpost and a power supply / interface.
Outdor pushbutton panel: is mounted next to your door or gate, and takes over the role of a classic bell. But he does much more at the same time. The outdoor unit contains a camera that records image and sound. It sends everything through to the inside station. Usually it is an integrated camera, with or without a wide angle or panorama image.
video internal unit: via a display you can see and hear who is ringing and open your door with the push of a button. Both for intercoms and videophones you have the choice between surface-mounted, built-in and table-top devices. You should also choose: a hands-free system or a classic system with a handset.
power supply / interface: This is usually 1 unit that provides the necessary power supply for the videophone and an interface that processes the images and the sound and whether or not it transfers to the internet.
Linked to your home automation system??
An autonomous intercom system or videophone system is an option. But you can also integrate the system into a domotics installation. Your internal unit will then be integrated into a central interface, which also controls your lighting, sun protection and heating.
Easy to install?
Standard: All modern videophones work on a two-wire system or bus system (4 wires, 2 for power supply and 2 for communication). So in most cases you can easily replace your doorbell with a videophone. Central you let the wires arrive in your control cabinet.
Connected: in this way you control the videophone via an app. In addition to connecting, you also have to configure everything on the home network. The unit that provides this connection may or may not be integrated in your internal unit or interface in your fuse box.