Modular dimmers or rail dimmers are mounted together in the fuse box.
Read more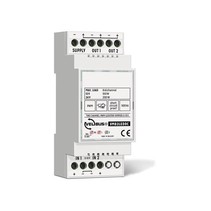 Voor 16:00 besteld, morgen in huis

Professioneel advies

Verzending via Bpost, thuis levering of postpunt
Modular dimmers, are dimmer modules that you place in your fuse box or distribution box.
This is possible with a new installation or a thorough renovation. In an existing installation with conventional wiring, it is not advisable to work with modular dimmers but to opt for built-in dimmers.
The wiring of your lighting runs directly from the dimmer to your light point, using 3g1.5mm wiring.
The control of the dimmer is done via a push button. Short press is on / off, long press is dim or down. The wiring of the push button is placed directly to the dimmer module.
Depending on whether the dimmer uses a control signal of 230V or low voltage (12 -24V), you choose wiring between 3g1.5mm or a control cable (SVV) of 0.8mm.
In our range there are also specific modular dimmers included, which can be controlled via the Domotica system for which they are designed.
Both Velbus and Niko have their respective dimmers, which can be integrated into their control system.
If you want more information about dimmers or the connection method, contact us at [email protected]