RJ45 UTP cat5e connector, connect yourself
| | |
| --- | --- |
| Article number: | VLCP89350E |
| EAN: | 5412810245536 |
| SKU: | 10D21 |
Verzendkosten 4.99€ Gratis verzending vanaf 50€
Veilig betalen via SSL verbinding
Verzending via bpost thuislevering of postpunt.
Niet tevreden? Gratis retourneren

ordered before 16hr, next day delivery
Information
Description:
✓ Make your own network cable with our RJ45 connectors
Mount this shielded network connector on a network cable and create your own customized network cable. The strain relief protects the cable against breaks that can occur due to bending.
Specifications:
• Shielded connectors for signal protection against RFI interference • Made specifically for CAT5 and CAT6 network cables • Including strain relief for protection against cable breakage
Order of UTP conductors in an RJ45 connector:
A UTP cable consists of 8 conductors, and each has a different color. To make a standard network cable (straight), the following sequence must be followed, from left to right:
White-orange
Orange
White-green
Blue
White blue
Green
White-brown
Brown
How to connect a UTP RJ45 connector:
Make your own UTP cable, both a cat5E and a Cat6.
Strip the outer sheath of the UTP cable over a length of approximately 5 cm. Do this without damaging the conductors so that the inner sheath is not damaged and no data loss can occur or worse, if the cable is cut, there will be no data communication.
You don't have to strip the individual wires, just the outer sheath.
It is best to strip the outer sheath with a Stanley knife that you press lightly against the outer sheath and then turn it around with the knife or cable.
Detangle the individual veins, they are twisted two by two around each other. (this is called a twisted pair cable and is ideal against failures).
Place the veins nicely next to each other, as indicated below and in the correct order. Then cut the veins to the same length.
| | |
| --- | --- |
| | |
First place the shield or grommet over the cable. Do not forget!
Hold the connector with the tab down and slide the address to the end, making sure that the outer sheath of the cable also slides into the connector, at least up to the height of the notch. When crimping, it is pressed so that the cable becomes stuck.
Now insert the RJ45 connector into the crimping tool and squeeze the pliers close to the end, with an automatic crimping tool the pliers will open again at the end.
Slide the grommet over the connector and you're done.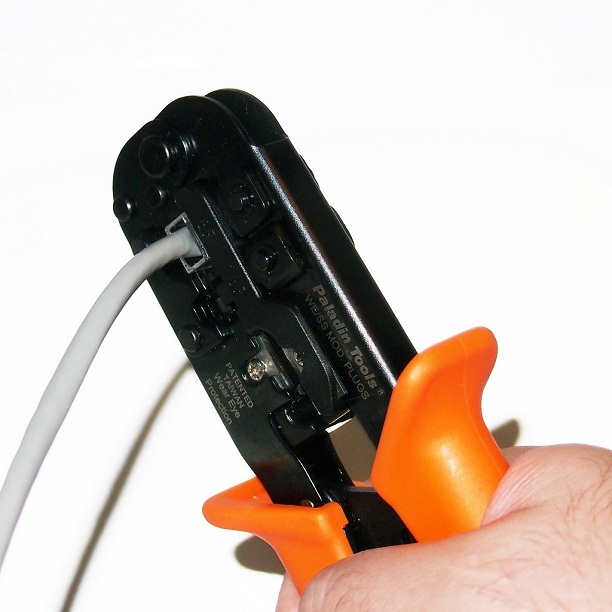 Reviews
No reviews found
Read or write a review