recessed boxes for hollow- and solid surfaces
Built-in boxes, to be placed at the start of your project to mount the pedestals after the plastering / painting work has finished.
Read more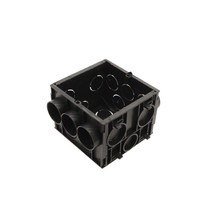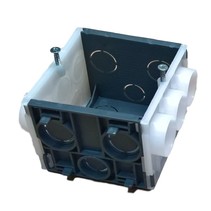 Voor 16:00 besteld, morgen in huis

Professioneel advies

Verzending via Bpost, thuis levering of postpunt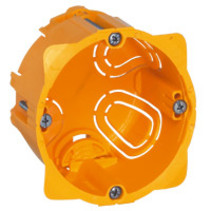 What is a flush-mounted box?
A flush-mounted box is a plastic box into which the wires of the cable are inserted. A socket or switch is then mounted in it. As the name suggests, recessed boxes are built into brick walls and hollow or wooden walls.
Horizontally, a maximum of 5 flush-mounted boxes are placed next to each other (for sockets, UTP and TV connections)
Vertically, for switches, push buttons and the like, a maximum of 3 flush-mounted boxes are mounted one above the other.
Make your choice: Full or hollow wall
Are you going to buy built-in boxes for a high-rise wall? Or do you want a socket / switch in a false wall? You must know this in advance before you want to order the flush-mounted boxes.
There are two type:
Built-in boxes for full walls, brickwork
Recessed boxes for hollow walls
There are some important differences between the two models.
Built-in boxes for a full wall are suitable for masonry (such as fast building blocks). They have right angles. By removing the top and bottom, you can combine multiple boxes for double, triple flush-mounted boxes.
You can use recessed boxes for a hollow wall with "false walls", for example a retention wall in plasterboard. You recognize them by their rounded corners. Hollow wall boxes cannot be combined with each other. For a group of 2, 3 or more modules you must therefore purchase a separate box.